Product Description
Wireless Transmitter Duplicator Remote Copy Machine YET9001
Specification
Description of Duplicator Machine




1.Show Frequency




Turn the switch to frequency.Place the original transmitter on the test area.Then on the indicator,you can see the frequency of the transmitter once you press any buttons on the transmitter.




2. Duplication-to copy the transmitter,follow these steps:




1:Turn the switch to record,and connect the 6-pins connector with the learning transmitter.If is connected properly,you will see a decimal point on the indicator.then it is ready to copy.




2: If the decimal point displayed on the second bit,pls turn the switch to Frequency,then turn to record.




3.Place the original transmitter on the test area.




4.If you place the transmitter on the test area,and press the same button twice,then you'll hear the scrial "beep"sounds.




That means the transmitter is with hopping-code and can't be copied.




5.The duplicator process should be started at first button.




6.Press the first button on the learning transmitter,then you will see 1 on the right side of the indicator.(Fourth bit)




7.without releasing that button,press the first buton on the original transmitter.The number 1 will go off.Once you hear a short beep sound and see blinking once on the left side of the indicator,(first bit),you can release bot buttons.




8.At this time,the number will keep blining on the left side of the indicator(first bit). That means a date transmitter is in process,once you hear a long beep sound and see 1 blinking 3 times,the duplication process is completed.




9.To copy the second,third,fourth and fifth button,follow the same procedures(step 3 to 5). But instead of seeing 1 on the in dicator,you will see 2 or 3 or 5,depends on which button you press.




10.If the duplicator is not successful,during the duplicator process,you will hear 5 beep sounds and see the number blinking continuously.When you see a decimal point on the indicator again,turn the switch to Frequency,then turn to record.the decimal point will be on the second bit,then you have to repeat steps 3 to 8.




11. If you want to copy the second transmitter with the identical codes,simply connect the 6-pin connector with another new lerning transmitter,and then turn the switch of recopy and it will switch back autonmatically after 1 second. wait for 30 seconds until you see 1 Blingking and hear a long beep sound,the duplication process is completed.(If it was dual channel transmitter,you will see 2 binking once the duplication process of second channel is completed.)
Photo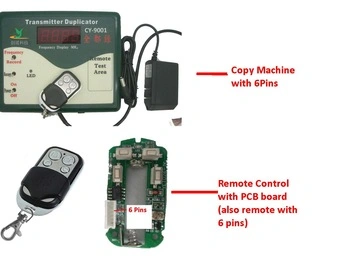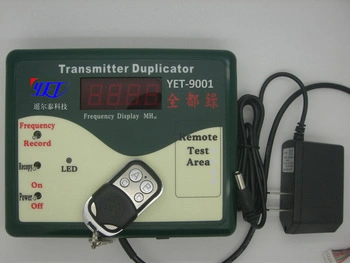 Certifications CE & Rohs

Delivery
1-2 days for sample, 7-15 days for bulk order.
FAQ
1. How to know what frequency of my transmitter
Please open the case and found the frequency saw on circuit board, it's surface will be marked with 433.92 or others. Just send this info to us if you are not sure of it.
2. How to pay?
We accept T/T , west union, paypal , L/c.
3. Quarantee
1 years for all products since the day you ordered.
4. Is the product with battery?
Yes.